H.265 COFDM multi-channel
IP
vide
o transmi
tt

er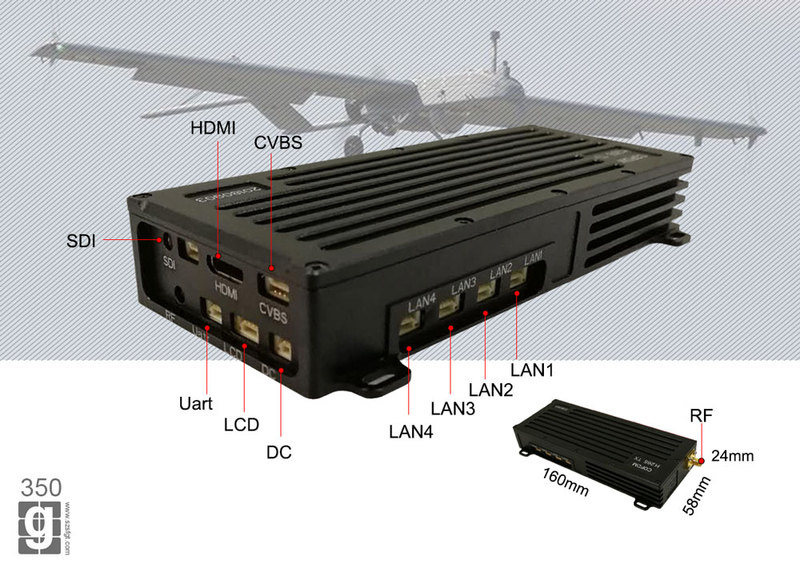 SG-TX265 H.265 COFDM multi-channel IP video transmitter is a new launch digital transmitter module from SAFE GUARD company. It adopt the latest COFDM modulation and H.265 video coding technology, enable to support 4 channel IP inputs and digital video interfaces (HDMI/SDI/CVBS), and capable for non-line-of sight (NLOS) transmission.
The module has achieved effective improvements in improving coding efficiency, reducing coding delay, algorithm optimization, anti-erro rate and the image quality which achieves the best image compression effect. SG-TX265 combined embedded design and ultra-linear digital predistortion RF design, integrated high-definition coding, digital modulation, full-band RF output all in one. Support narrowband(1MHz), low latency, transparent data transmission which can help you to achieve a long-distance multi-channel simultaneous transmission by connecting a single transmitter in single frequency.
Especially for military, security, public security, and fire protection applications. It is widely used in high standard unmanned control system and intelligent control equipment for multi-channels video transmission.


Features



H.265 high efficiency full 1080p compression encoding
Triple video interfaces HDMI/SDI/CVBS
COFDM modulation technology
Support 4-channel IP video stream simultaneous transmission
Full-band / ultra-narrow band / multi-bandwidth (1M/2M/4M/8M)
Transparent network protocol and high capacity of transfer rate
Support configuration preset
Support 128-bit dynamic AES encryption
Highly integrated modular design
Small size, light weight, portable
Strong heat dissipation with heat sink type of aluminum housing
Specifications
Model

SG-TX265

Encryption

128-bit dynamic AES

Working voltage

DC 6~17V

FEC

1/2

,

2/3

,

3/4

,

5/6

,

7/8

Working current

1.5A-1.9A

Guard interval

1/32

,

1/16

,

1/8

,

1/4

Video input

SDI/HDMI/CVBS

Video compression

H.265

UATR

transparent TTL serial one-way

data transmission

Modulation

COFDM

,

QPSK

,

QAM16

,

QAM64

LAN

4 UDP ports

RF output

IPX

Transfer rate

30Mbits/S_RJ45 & 115200bps_RS232

Parameter settings

Through an

external control pan

e

l

RF bandwidth

Select at

1/2/4/8M

Dimension

160mm*58mm*24mm

Frequency

3

00MH~

25

00MHz ( customize

d

)

Weight

350g
---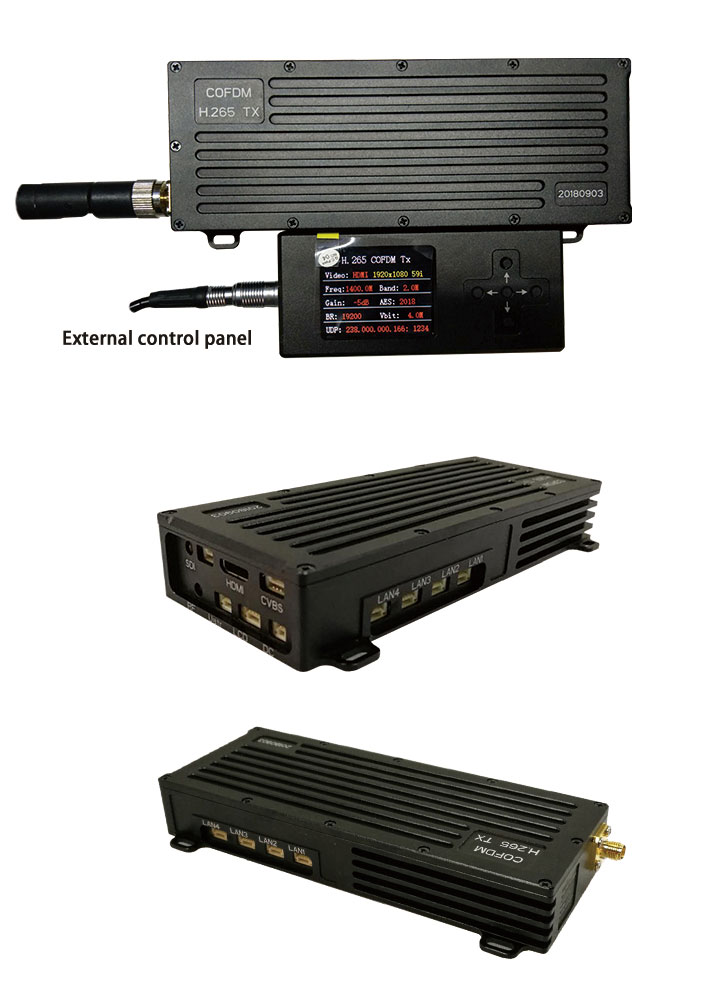 ---