H.265 Technology COFDM RX modules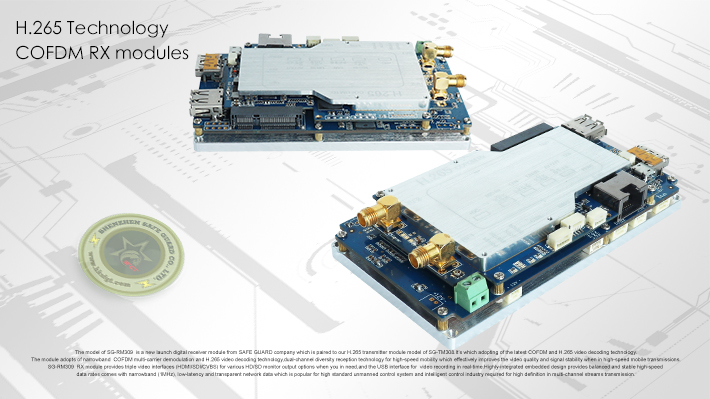 The model of SG-RM309 is a new launch digital receiver module from SAFE GUARD company which is paired to our H.265 transmitter module model of SG-TM308.It's which adopting of the latest COFDM and H.265 video decoding technology.The module adopts of narrowband COFDM multi-carrier demodulation and H.265 video decoding technology,dual-channel diversity reception technology for high-speed mobility which effectively improves the video quality and signal stability when in high-speed mobile transmissions.

SG-RM309 RX module provides triple video interfaces (HDMI/SDI/CVBS) for various HD/SD monitor output options when you in need,and the USB interface for video recording in real-time.Highly-integrated embedded design provides balanced and stable high-speed data rates comes with narrowband (1MHz), low-latency and transparent network data which is popular for high standard unmanned control system and intelligent control industry required for high definition in multi-channel streams transmission.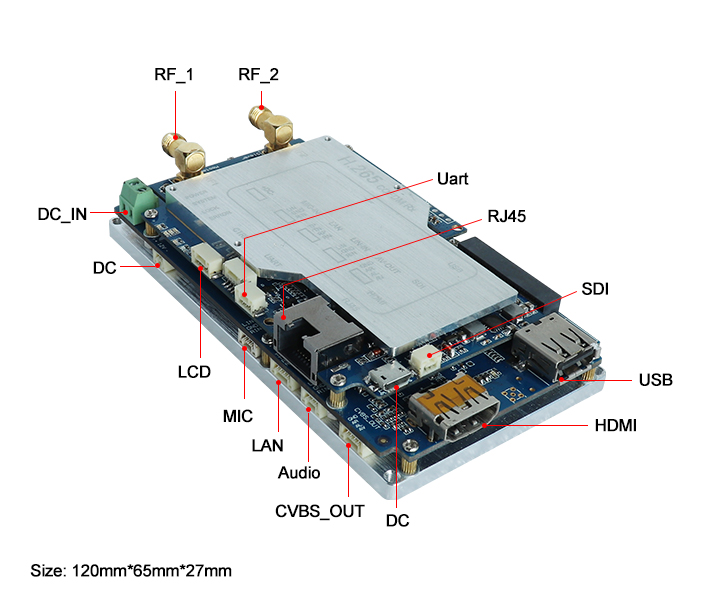 Features
● H.265 high-efficiency full HD video decoding.
● COFDM ultra-narrow band demodulation technology.
● 128-bit AES decryption.
● Transparent network protocol,high capacity of transfer rate.
● Built-in with USB for video recording.
● Triple video outputs (HDMI / SDI / CVBS).
● Dual antennas for multi-carrier diversity reception.
● full-band / ultra-narrow band / multi-bandwidth adjustment
● Easy to operate and install
Specifications
| | |
| --- | --- |
| Model | SG-RM309 |
| Working voltage | DC 6~17V |
| working current | 12V/800mA (power consumption 10W) |
| Video output | SDI/HDMI/CVBS (single selection) |
| Frequency | 300MHz - 860MHz step in 1MHz(Can customize other frequencies) |
| RF bandwidth | 1/2/4/8M |
| A/V output | CVBS ,stereo L/R audio channel |
| Ethernet | standard RJ-45 |
| LAN | 1 port |
| UATR | Transparent TTL serial data transmission |
| RF bandwidth | 1/2/4/8M |
| Rx frequency | For video recording |
| Decryption | 128-bit dynamic AES |
| FEC | 1/2、2/3、3/4、5/6、7/8 |
| Guard interval | 1/32、1/16、1/8、1/4 |
| Video decoding | H.265 |
| Modulation | COFDM、QPSK、QAM16、QAM64 |
| RF output | IPX |
| Parameter preset | Through the LCD control kepads to preset the related parameters |
| Dimension | 120*65*27mm |