Multicast COFDM IP Mesh Video&data MESH communication SG-MS1400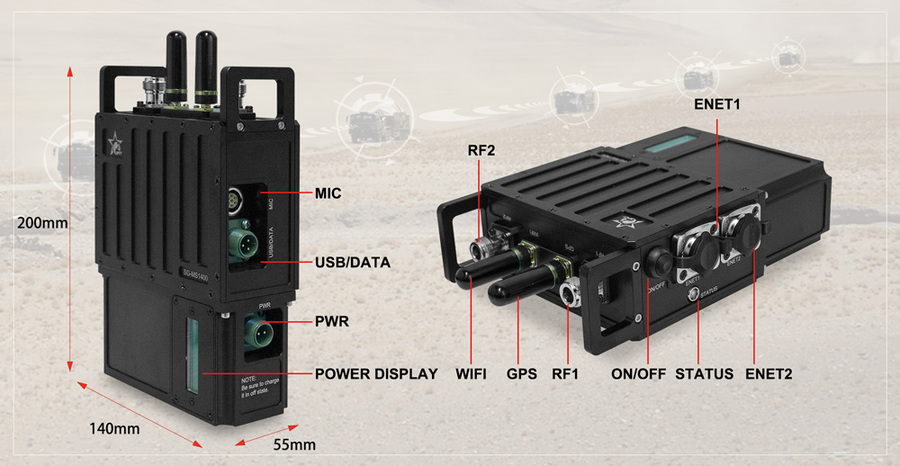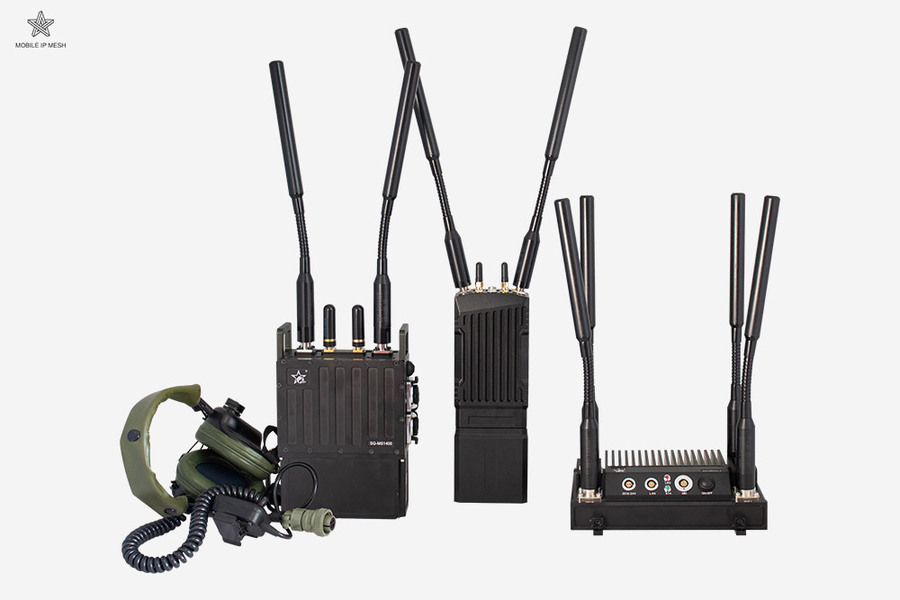 Based on the growing demand of the proprietary communications market, our 2nd version Mesh product model SG-MS1400 can able to deliver video, voice, and data signals over IP networks in a complex environment with a wide coverage, strong diffraction ability,high transfer rate and self-defined security encryption. The Mesh is suitable not only for PTP communication, but also centerless multi-hop ad hoc network. Each mesh grod can access up to 32 nodes. According to the work environment and the number of nodes, SG-MS1400 throughput up to 70Mbps, transmit distance can be extended through multi-hop. As Mesh self-organizing/self-healing features make it very suitable for motion surveillance with high quality image and emergency communication.
Features
● Non-line-of- sight communication
● Self-organizing network
● Self-encrypting security algorithm
● Frequency can be customized
● High transmission rate: peak 70Mbps @ 20MHz
● Ultra-strong receiving sensitivity: -93dbm @ 5MHz
Military grade machine design, lightweight, for portable. Shell-case of metal material, military level designed and lightweight to take full consider of heat dissipation, security, harsh working conditions and other factors, and easy for deployment and operation. We design and manufacture the all COFDM products and the core technology and intellectual property rights in our own hands, so that some sensitive customers and projects can be assured of purchasing from us. And we accept of flexible customization based on user needs.Product is widely used in public security, armed police, fire, disaster relief and other emergency communications systems; UAV aerial, electricity, water, waterway, border and other monitoring.

Transmission characteristics

GPS

support


Frequency

1100MHz-1400MHz

3G/4G module

support optional

RF bandwidth

5/10/20MHz (optional)

WIFI module

support

RF output power

1~4Watt (optional)

Encryption

AES user-defined password


Shoulder ratio

30dBm>-45dbc

Electrical characteristics

Modulation

COFDM

Working voltage

DC12V

Modulation constellation

BPSK/QPSK/16QAM/64QAM

Working current

≤2A

FEC

1/2,2/3,3/4,5/6

Power consumption

≤20W

sensitivity

-93dbm@5MHz

The built-in filter characteristics

Transfer rate

Peak 70Mbps@20MHz

Center frequency

1100MHz/1400MHz

Cover distance

customized

bandwidth

10MHz

Networking capability

up to 32 nodes

F0±10%≥44db

Data characteristics

F0±20%≥75db




Video input format

Videoinput:CVBS/ HDMI/ SDI

Far-end≥80db




IP video input:1080P IP Camera

Physical characteristics

Audio input format

MIC

Protection grade

IP65

Audio output format

headphone

Working temperature

-20℃~+50℃

Video compress format

H.264

Storage temperature

-40℃~+80℃

Weight

1.4Kg

Dimension

200×130×50mm