DESCRIPTION
The transmitter/receiver using the latest COFDM technology and AES128 digital encryption that allows you can be assured ofclean sec
ure
video&data reception.It can also operate in a variety of transmission bandwidths allowing the user to trade off image quality against range to suit
all types of applications. Excellent range,performance and spectral efficiency are offered when operating in the optional narrow bandwidth mode
which,combined with ultra efficient H.264 encoding allows true broadcast quality pictures to be transmitted in narrow-band. System is capable
the wireless transmission in NLOS(non-line-of-sight) environment.With the COFDM modulation and video compression mode guarantee the
stability and quality of transmission.In addition,it's multifunctional,flexible and easy to be carried and installed everywhere.

LONG RANGE VIDEO&DATA TRANSCEIVER Description
The powerful Transmitter SG-S20 is a versatile digital video data COFDM transmission system.It provides excellent performance in long distance,and it has increased spectral efficiency in 2MHz narrow bandwidth modes.It is particularly suitable for provision robust wireless video data links in LOS and no-line-of-sight(NLOS)environments.Works with AES128-bit encryption for security.The system support good quality 720P(1280*720) resolution.As its lightweight and small size,it's widely usedn UAV(unmanned aircraft vehicle) and covert mission AV and GPS location communication.
| | |
| --- | --- |
| Key Feature: | Typical Application: |
| ■Latest COFDM modulation | ■ Military UAV shooting |
| ■25W rf power output | ■ UAV/UGV surveillance |
| ■Standard 720P resolution,1280*720; | ■ Sports coverage |
| ■H.264 encoding | ■ Defense |
| ■BNC and RS485 interfaces | ■ Tactical mobile command |
| ■Encrypted with AES128bits | ■ Robot fighting |
| ■Low power consumption | ■ Public safety |
| ■ Aluminium alloy,with two fans cooling | |
| ■Rugged design to operate in harsh environment | |
| ■Widely used in helicopter shooting,Live broadcast and etc… | |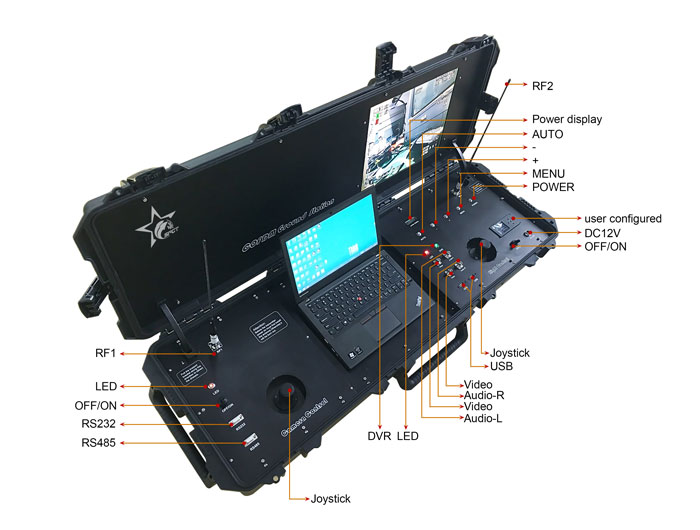 Description
It's capable to receive single channel and showing on the LCD Screen.Built in 17inch LCD and 1 channel DVR with up to 120GB
SSD, H.264 compression technology.Operating with DC12/AC22V power supply. As it insert with battery built in that support 7-8hrs endurance working time.
Receiver features

● COFDM modulation
● H.264 video compression
● Good quality 720P resolution
● Modular design and highly integrated
● Dual aerial designed for better signal receive simultaneously
● Standard 17inch Samsung LCD screen
● The left space for your tablet placed for your cable placed
● Insert with DVR,support video recording and playback.
● Provides two joysticks to control your camera PTZ and flight simple actions.
● Provides 2 USB ports for mouse control,and back-up files .
● Work well under fast moving signal receiving and support NLOS trasnsmission
SPECIFICATIONS:

Frequency/video

650MHz

Power supply

AC220V / DC12V

RF bandwidth

2/2.5MHz

Constellation

QPSK,16QAM,

LCD monitor

1

7inch Samsung LCD screen

FEC

1/2,2/3,3/4,5/6,7/8

Storage method

SSD

Guard Interval

1/32,1/16,1/8,1/4

RF Level Input

-105dbm/2MHz, -95dbm/4/8MHz

Video format

1 line PAL/NTSC video signal (auto-adaptation)

RF Interface

N(F)

Video Decoding

H.264

AV output

BNC

Resolution

1920*1080,720,576,480;

Data serial port

RS232@19200bps

Audio Output

stereo left and right channel

RS485@9600bps

Data encryption

AES 128bits

Data frequency

470MHz ( RS485)

Work environment

-30~70° C

460MHz ( RS232)

Built in Battery

20A capacity,can support 4-5 hrs working time

USB output

For mouse connection,and hard disk back-up files

Size

1198*419*234mm

Modulation

COFDM

Weight

23kg
APPLICATION

■Police covert mission ■ UAV/UGV surveillance
■ Defense ■ Tactical mobile command
■ Sports coverage ■ Robot fighting