SG-HR50 is a vehicle-mounted high-definition H.264 COFDM wireless video audio receiver, standard 1.5U rack designed, simple and efficient to use control panel. Support output video (including HD and SD resolution) audio signal simultaneously. It has the strong anti-jamming capacity, overcomes the reflection and cover caused by transmission multipath simulation technique and conventional modulation techniques, to realize high-speed photography and real-time receive high quality image in NLOS(Non-Line-of Sight) or complicated working environment. Easy to place it in vehicle and room for video monitoring.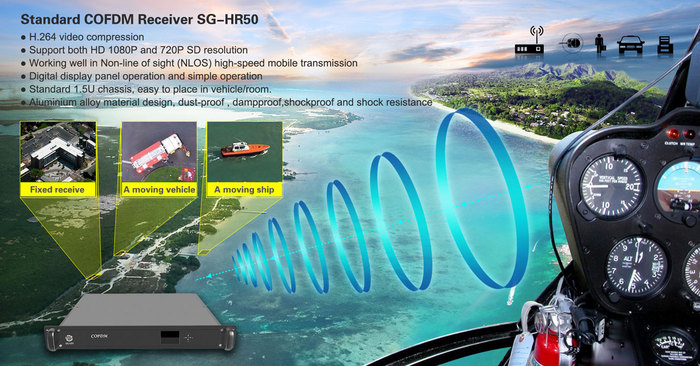 Features

● H.264 video compression
● Support both HD 1080P and 720P SD resolution
● Working well in Non-line of sight (NLOS) high-speed mobile transmission
● Digital display panel operation and simple operation
● Standard 1.5U chassis, easy to place in vehicle/room.
● Aluminium alloy material design, dust-proof , dampproof,shockproof and shock resistance

Specifications
| | |
| --- | --- |
| Frequency | 300~4400Mhz(optional) |
| RF bandwidth | 2/2.5/4/8MHz(adjustable),4/8MHz is for HD resolution |
| Receive sensitivity | -105dBm/2MHz, -95dbm/4MHz/8MHz |
| Working Voltage | DC12V/AC220V |
| Working current | 1.5A |
| Power consumption | ≤20W |
| Modulation | COFDM 2K QPSK |
| Constellation | QPSK,16QAM,64QAM |
| AV Interface | BNC |
| HD output | HDMI |
| Audio channel | stereo left and right channels |
| RF Interface | N F head (50Ω) |
| FEC | 1/2, 2/3, 3/4, 7/8 |
| Guard Interval | 1/32, 1/16, 1/8, 1/4 |
| Resolution | 1920*1080, 720P, 576, 480 |
| Data Encryption | AES 128 Bits |
| Video format | PAL/NTSC(self adaption) |
| Operating temperature | -30~70℃ |
| Physical dimension | 1.5U |
| Weight | 3.5KG |
| Size | 480*220*44mm |