The modulator SG-RL264 is our new system Full hd repeater modem,is developed with the latest technologies of COFDM modulation and H.264/MPEG-2 video compressed data stream. It can realize wireless transmission with high definition video and stereo audio channels.Adopt of multi-carrier frequency equalization technology that to receive and transmit the relay transfer function without any signal loss.
Features
Adopt of latest COFDM modulation technology
H.264/MPEG-2 video compression
Full hd resolution, support 1080P/720P/576/480
Works well in NLOS (non line-of-sight) transmission.
Highly integrated combination of modular designed
Can transfer real-time and station signal even working in severe barrier environment.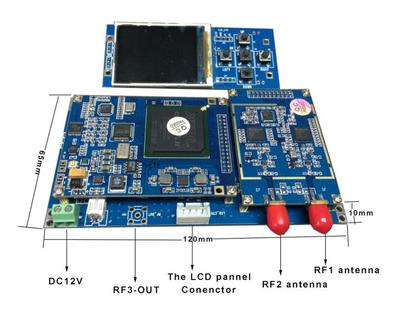 Specifications

Module

SG-RL264

Working voltage

DC12V

Working current

380mA

Transmit part

RF output: -31dBm~0dB、step in 1MHz adjustable

Frequency output:300MHz~900MHz(optional),

step in 1dbm.Accept of other band customized.

RF bandwidth:2/2.5/4/8MHZ

Receive part

Receive frequency:300MHz~900MHz(optional),step in 1MHz adjustable

Receive sensitivity:-20~-105dBm

RF bandwidth:2/2.5/4/8MHz

Modulation

COFDM/DVB-T ,1/2,1/32

Input and output stream format

COFDM/DVB,MPEG-TS

TX/RX port

SMA

Parameter control method

Preset by the LCD control screen on the system

Dimension

120mm*65mm*10mm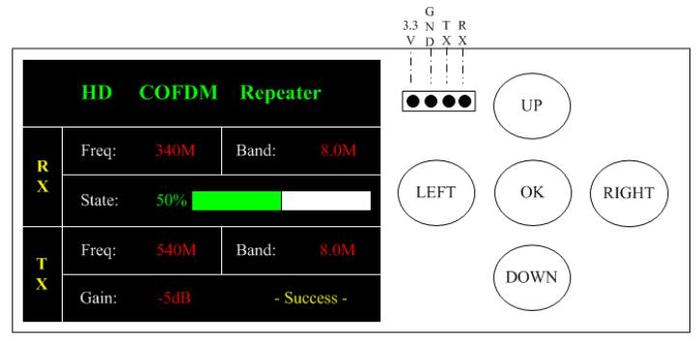 Operation
Through this small LCD panel controller to preset the parameters .Very easy to operate it according to below step by step:
Frequency/RX :300-900MHz available,step in 1MHz
Band/RX: the receive bandwidth,2/2.5/4/8MHz
State : tell you the working status,it will turn to Green color when it receive signal. The bigger the percentage showing in green,the better working signal.
Frequency/TX : transmit frequency,300-900MHz available,step in 1MHz
Band/TX:the transmit bandwidth,2/2.5/4/8MHz
Gain: Level output attenuation : -31dbm ~0dbm
Success:means the preset parameters setting success.
Step one by one as following:
For example: change the frequency from 340MHz to 450MHz.
Press the "OK"button around two seconds enter to the parameter setting mode.Then you will see the first parameter in black shading means you can modify it for now.
Press"LEFT" or "RIGHT" to select the data where need to modify,then press the "UP" or "DOWN" or change the data.Step in 1MHz modification.
After accomplish the modification,then press the "OK"button 2 seconds to save the data.Later you will see the "success" word that means you modification is success.
Other parameters setting please refer to the above method performed.
If you do not want to save the modified parameter,you just should press the "OK" to discard the changes and exit to the current setting and back to the normal display interface.