Name

Low Delay Mini HD COFDM Video Transmitter

Model

SG-HDS1000A

Special Features

1) 1080P HD transmitter,minimum volume, lightweight and safety;
2) NLOS/LOS distance: 500m/20km;
3)Only 150ms delay for whole system working;
4)New exclusive design COFDM product, very easy for carrying and hiding.

Introduction
Our this exclusive design Mini H.264 HD wireless video transmitter SG-HDS1000A is using the 4th generation mobile communication core COFDM multi-carrier modulation technology, high efficiency innovative H.264 compression encoding, integrated with high light,low power consumption of OLED display control panel, integrating digital modulation,audio and video compression in combo,highly integrated HD move, NLOS digital video transmission equipment. Its advantages small size, light weight that can transmit high quality full 1080P hd video and audio even though there are some building blocks or high-speed mobile shooting.
It's widely used in UAV aviation filming,military,covert investigation, image monitor and real-time wireless video transmission and so on.
Features

1. COFDM modulation, H.264 compression;
2. Support 1080P/720P resolution;
3. High performance,high capacity power of Li-battery(replaceable);
4. Small dimension,light weight,easy to carry ,heat dissipation of aluminum case;
5. Support NLOS,high-speed mobile transmission;
6. Highly integrated modular combination design;
7. Using high light and low power consumption of the OLED display control interface.
Transmitter parameters
Voltage

DC7.2V(7.2V/1400mA standard matching mini battery)

Current

1A

Video Input

AV:3.5mm port,connect to standard resolution analog video signal

Camera:2.5mm port,connect to HD camera;

HD-SDI/HDMI:support HD1080P,720P,576,480;

with audio demultiplexing function)

Frequency

300-1400MHz(option)

Bandwidth

2/2.5/4/8MHz(adjustable)

Output power

30dBm max(100-1000mW adjustable)

Data encryption

AES128/256bits

Modulation

COFDM

FEC

1/2、2/3、3/4、7/8

Guard Interval

1/32、1/16、1/8、1/4

Video Compression

H.264

Standard Video Format

PAL/NTSC (autoadaptation)

Parameter control method

Set the related parameters through the control panel

RF Interface

SMA

Working temperature

-20℃~75℃

Transmission distance

1-20km max LOS(on air)

300-500m NLOS(body-worn)

Dimension

100*59*22mm

Weight

195g(without battery)
Product application:

1.Covert monitoring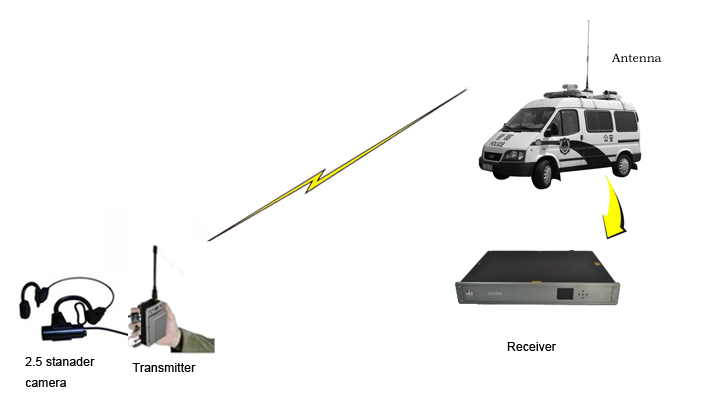 2. UAV shooting: