720P COFDM Video Tx Rx modules SG-SBD01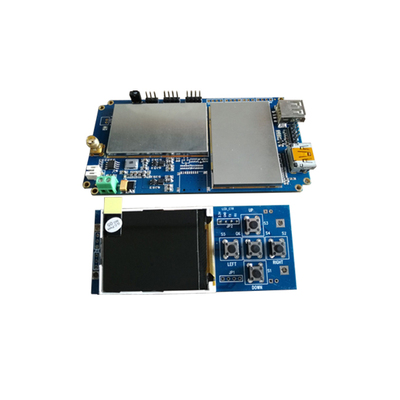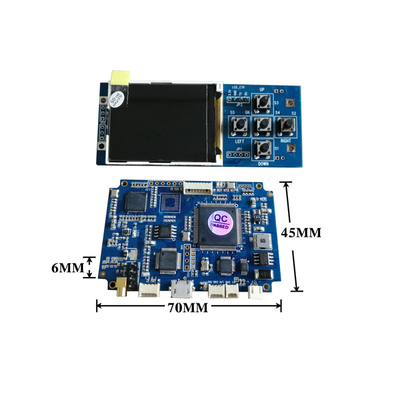 The modulation and demodulation modules model of model SG-SBD01 are produced by SFGT.Provided multi-bandwidth design that measure up to national standard and a fully functional integration of innovation with encoding,Modulation and Frequency conversion together,which greatly improves our goods' stability and performance consistency.It's with small size and low power consumption. Offer optional 2/2.5/4/8MHz bandwidth and continuously adjustable frequency.Completely measure up to DVB-T standard.Its prominent is support AES user defined encryption.
Supports standard COFDM modulation ,MPEG4 encoding and standard format of the composite video signal and balanced stereo input and the various electrical performance completely measure up to ETSI EN 300744 standard requirements.
Features
◆ High integration,Performance and Fully-function integrated design;
◆ 2/2.5/4/8MHz bandwidth adjustable;
◆ Full frequency output, continuously adjustable frequency 300-4400MHz optional.
◆ 10 level RF Output Adjustable
◆ Embedded digital image encoding and signal chip COFDM modulation design;
◆ Single channel analog Video input and balanced stereo input
◆ Support standard MPEG2 image and audio compression encoding processing
◆ High security with AES user defined encryption
Tx specifications
| | |
| --- | --- |
| Voltage | DC 10~14V |
| Power consumption | < 5W |
| video input | CVBS: Support D1 SD resolution |
| audio input | CVBS: Left/Right audio channel |
| RF banwidth | 2/2.5/4/8MHz(option) |
| rf power output | 1mw |
| modulation | COFDM |
| Frequency | 300-900MHz,1.1-1.8GHz,2.0-.2.8GHz,3.3GHz-4.4GHz selection |
| Frequency stability | 2ppm |
| Harmonic | < 45dB |
| FEC | 1/2、2/3、3/4、7/8 |
| guard interval | 1/32、1/16、1/8、1/4 |
| RF interface | SMA |
| Encryption | AES user-defined |
| Coding | H.264/MPEG4 |
| Parameters control method | Through the LCD control panel can set up parameters |
| Size | 70*45*6mm |
| Work environment | -10~70℃ |
Rx specifications
| | |
| --- | --- |
| Voltage | DC 10~14V |
| Current | 250mA |
| video input | CVBS: Support D1 SD resolution |
| Sensitivity | -105dBm/2MHz |
| RF banwidth | 2/2.5/4/8MHz(option) |
| Frequency | 300-900MHz,1.1-1.8GHz,2.0-.2.8GHz,3.3GHz-4.4GHz selection. |
| FEC | 1/2、2/3、3/4、7/8 |
| guard interval | 1/32、1/16、1/8、1/4 |
| RF interface | SMA |
| Encryption | AES user-defined |
| Coding | H.264/MPEG4 |
| Parameters control method | Through the LCD control panel can set up parameters |
| Size | 120*65*10mm |
| Work environment | -10~70℃ |
FM Board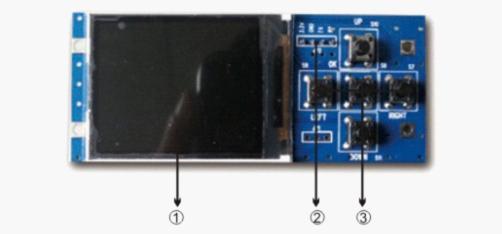 ⑴ LED panel:FM board's parameter display screen
⑵To connect external transmitter board's plug (3.3V,GND,RX,---- correspond to above picture ⑤ one by one )
⑶ Control Keys:HD FM board parameters control keys(Up, down, left, right, OK)
3.HD receiver board description:
Control interface using simple instructions:
The LED board is composed of digital display and the three buttons. Specific Structured as shown in the above frame:display portion and key operation part.From left to right ,there are menu(LEFT_RIGHT), increase button (UP) and the decrease button (DOWN)
Connection:
Pls properly connect the CONTROL_COM pin port of the full functional modulation module board to the CONTROL_COM pin port of LED control module board according to the correct identification,namely the two boards on the VDD/GND/TX/RX respectively corresponding to the connection