It's our newest desgined HD multi-funtional CODFM video receiver special for army outdoor handheld use. It adopts advanced multi-carrier diversity reception technology to support high-speed mobile and non line-of-sight video reception. With 7 inch high-definition screen and easy control operation panel, it provides high quality image display. Our product is widely used in security, fire fighting, and emergency communications and broadcasting industries.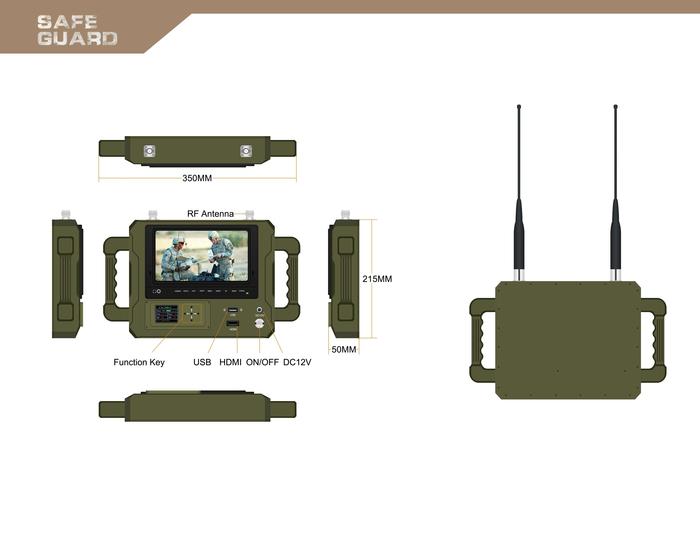 Product Features
1.High brightness,contrast,anti-glare screen with a sun shade,sun clearly visible.
2.COFDM modulation,H.264 video decoding;
3.support Multicarrier double antenna diversity reception
4.Built in with 7 inch 1080P high definition LCD screen;
5.With internal Li-battery,support 3 hours continously working;
6.Frequency can be customized according to requirements, 300-4400MHz range for option;
7.Support video audio receiving synchronously;
Specifications
1. Frequency:300-4400MHz(optional);
2. Modulation:COFDM;
3. Bandwidth:2/2.5/4/8MHz(adjustable);
4. USB plugs: U disk inserted type DVR;
5. Audio output:3.5mm jack (CVBS)headphone;
6. Voltage:DC12V;
7. Sensitivity:-104dBm/2MHz;
8. Decoding mode:H.264;
9. Encryption mode:AES128/256 bits;
10. Internal Li-battery:4000mA, can work 3 hours synchronously;
11. Dimension:350*215*50mm
12. Net weight:3.1kg

Front control panel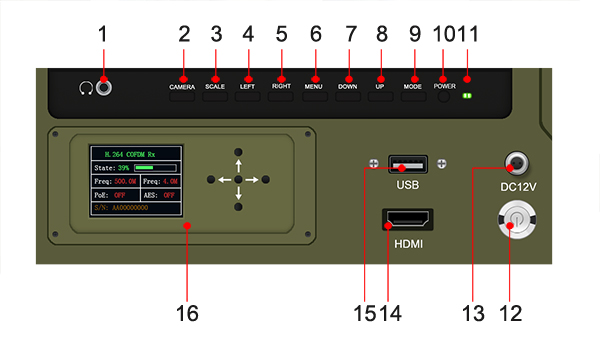 1. Headphone jack
2. CAMERA:Camera mode key
3. SCALE: Screen marker dispaly confirm,you can choose 80%,85%,90%,93%,96%,off.
4. LEFT: Center mark (cross) display,volume adjustment is to reduce the volume,press the RIGHT button to confirm.Then press this button to control the volume decrease.In the menu settings for project selection and adjustment.showed that the volume is adjusted to reduce the volume.Press the right key to confirm and then click this button again to control the volume decrease. The menu is for project selection and fixed value adjustment.
5. RIGHT: volume adjustment confirmation key.When you need to adjust the volume,first press to confirm the size press,then press this button to increase the volume control in the menu settings for project selection and adjustment.
6. MENU: Menu key to entr/exit the menu.
7. DOWN:Direct pressing this key,shortcut keys for the focus assist.To enter the menu for the down adjustment key to select the next option.
8. UP:Direct pressing this key,color/B&W/monochrome(R,G,B)select a shortcut. Enter the menu for the up adjustment key to select the previous option.
9. Mode: 1080P/1080I resolution,hdmi&sdi interfaces are automatically compatible.
10. Power: On/standby select key.
11. Power indicator.
12. Power ON/OFF.
13. DC12V input.
14. HDMI video output.
15. USB: U disk inserted type DVR
16. User configured panel

Installation
1)Open: Positive parallel alignment of the sun shade and monitor,the projection of the sun shade hanging claw at the monitor sun shade slot. Pay attention to the position should be aligned around inserted balanced slide down.
Sun shade installation view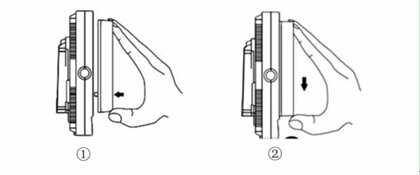 The sun shade's hanging claw nd the monitor's sun shade slot should be aligned around inserted balance to slide down.
②By equilibrium of sliding down to match uo the sun shade and monitor.
③Please follow steps,otherwise will damage the cover.Pls do not press the L/R panel of the sun shade,if not,unable open the cover.

2) Remove: When you want to shade cover is removed from the monitor,hands were clenced monitor and the sun shade,drag up shade cover from monitor,that separates the sun shade from the monitor.
Remove sun shade view: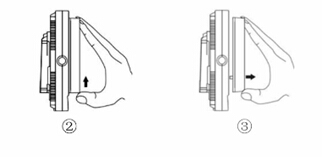 ①In accordance with the instructions below steps,close the sun shade in sequence.
②Drag up sun shade balance to separates the sun shade from the monitor.
③Remove the sun shade
Product application