COFDM UAV Wireless HDMI/HD-SDI Digital video Emitter Receptor
1080P HD transmitter is a powerful HD transmit system,using the core of mobile communication technology COFDM(multi-carrier modulation technique),which can transmit good quality and stable full-
HD
digital video signal under the condition of high speed mo
ving
and heavy building blocks
in city environment.
The HD1080P wireless video transmitter
support
s
stereo balance audio input and
narrow-band
transmission system.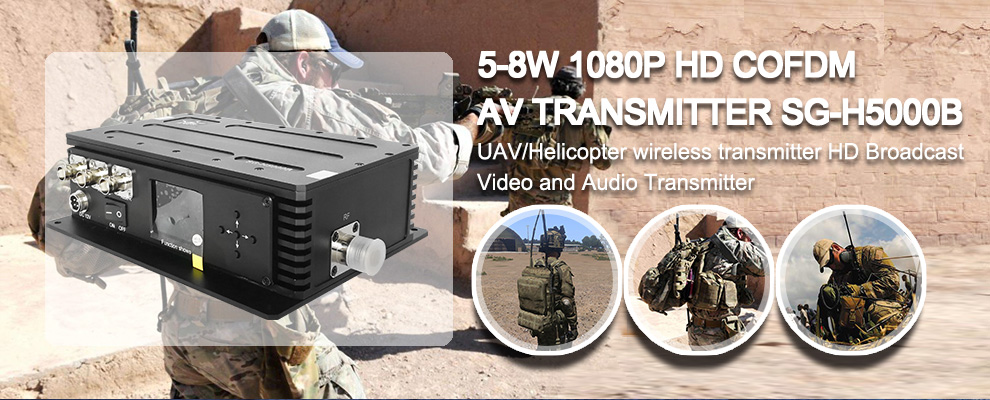 Features
1. Support 5-8W adjustable by user,can transmit 5km distance max in city;
2. Support FULL HD high quality video encoding transmission
3. Broadcasting HD encoding compression (H.264/Level 4 standard),support 1080i/1080P HD transmission.
4. COFDM modulation, Video compression code stream bandwidth can up to 12Mbps;
5. Built-in with HDMI and HD-SDI interfaces (single selection),
6. Support composite standard video interface and balanced audio input;
7. RF bandwidth 4/8MHz (support adjusted by user),the working frequency will be displayed on the LCD;
8. It will be HD1080i transmission when the RF bandwidth is 4/8MHz.
Specifications
Power supply

Working voltage V

DC11~1

4.5

V

Working current A

1.9

A@DC12V

Video transmission

Frequency Output range

138-4400MHz(option),select within 100MHz space

Frequency bandwidth

2/2.5/

4/8MHz(adjustable),4/8MHz is for HD system

RF Power output

5-8

W (adjustable)

SHG

>52dBc

Modulation

COFDM

Encryption

AES user-defined password

Constellation

QPSK

,

16QAM

FEC

1/2,2/3,3/4,5/6,7/8

Carrier

2K,8K

Guard Interval

1/32,1/16,1/8,1/4

Flatness

Full band≤2dB,

8MHz≤0.5dB

AV input

HDMI/HD-SDI

and

BNC

Max speed rate

450km/h

CVBS

Video white bar amplitude(mV)p-p

700±20

CNR(

weighting

)

Db

≥58 Db

Sloping field SNR(

unweighted

)

≥50 Db

Analog audio

Balanced audio input range

Vmax=±15V

Unbalanced audio input range

Vmax=3Vpp

Audio format

Stereo L/R audio channel

HDMI

Version

HDMI 1.3

HDCP protocol

Support

Encoding

Audio encoding

MPEG1 Layer2

Vidoe resolution

Minimum 1280*720 50i

Maximum 1920*1080 60P

Video coding

H.264

Video bitrate

500kbps-16.68Mbps(auto

-

adaptation)

Formate

YcbCr4:2:2

Environment

Working Temperature

-25

℃

~55

℃

Storage Temperature

-40

℃

~70

℃

Appearance

Dimension

200*120*6

0mm

Weight

1828

g